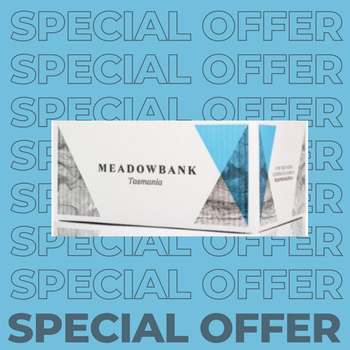 Autumnal Mixed Six
To celebrate the end of our Tasmanian harvest, and the final days of autumn, we've put together a very special mixed pack that is perfect for you to enjoy during this much cooler weather.
While we're currently sold out of Pinot, we've decided to release some of our highly coveted stash of 2017 Pinot Noir, as this was arguably one of Tasmania's BEST EVER vintages!
So, what's in the box?
2019 Chardonnay (2 bottles) – a delectably smooth ride from start to finish, with hits of tang, zesty citrus and a layered, earthy texture.
2020 Syrah (2 bottles)– a light and savoury red wine, with a satin-like texture that makes this very, very drinkable.
2017 Pinot Noir (2 bottles) – our BEST EVER vintage, a super rare taste sensation to drink now or tuck away in your cellar.
Be quick - ONLY 2 PACKS LEFT!!!
2017 Pinot Noir Reviews:
97 POINTS - "Exceptionally powerful on the bouquet and all the way to the finish and aftertaste. Has that tension between savoury fruits on the one hand, and gleaming red and purple fruits on the other. The result is a wine with almost painful length, keeping the taste buds working flat out keeping up to progress along and across the palate." James Halliday, Wine Companion
95+ POINTS - "A little smoky and spicy, fine boned and cool in 'minerally' acidity, cherries, raspberries offset with a subtle sappy tang, fine emery tannin, and a long stony cherry pip and floral finish. Responds beautifully to air. More to come." Gary Walsh, The Wine Front