RECIPES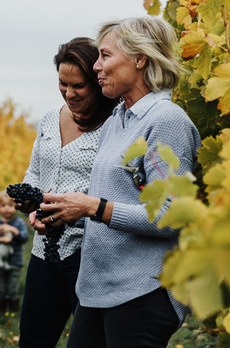 Here you will find some of our favourite family recipes which often feature at our Meadowbank events.
Sue and Mardi Ellis have a shared passion for cooking and make a formidable team in the kitchen. A mother and daughter who make catering for both small and large gatherings seem completely effortless.
The Meadowbank kitchen is always so full of life, energy, love and laughter - our meeting place and our sanctuary, the heart of our home.
Please let us know if there are any recipes you would like shared here!
Homestyle Chicken Liver Pâté
Ingredients:
500g chicken livers
125g butter
1 large onion
½ tsp thyme
1 bay leaf
6 rashers of bacon
3 Tbs port
3 Tbs dry sherry
1 Tbs brandy
Salt and pepper to taste
½ cup cream
125g mushrooms
For serving dishes:
60g butter
Extra bay leaves
Accompaniments:
Fresh crusty bead
Crackers
Method:
Prepare your chicken livers - make sure they are clean. Soak them in cold, salted water for approximately 1 hour. Drain them prior to cooking.
Place frying pan over medium heat. Melt butter in pan, add finely chopped onion, thyme, bay leaf and finely chopped bacon. Saute slowly until onion is translucent and very tender (but not brown). Add your chicken livers and gently fry for 7 minutes or until cooked. Tip the contents of your frying pan in to a blender.
Place the frying pan back on a medium heat. Add brandy, port, sherry, salt, pepper, cream and finely chopped mushrooms to the pan. Stir to combine, gently bring to a boil, then simmer gently uncovered until sauce has reduced by half. Pour sauce into the blender, blend together with your chicken liver mixture until smooth.
Push your mixture through a coarse sieve to ensure it is completely smooth, then place in to either one large serving dish or a few small ramekins.
Put extra butter in a clean saucepan, melt over gentle heat until white sediment comes to the top; skim off white sediment only. Place a bay leaf on top of each pâté dish, pour the clarified butter over the top to cover pâté, then refrigerate until set.
Serve with fresh crusty bread, your favourite crackers and a glass of Meadowbank Pinot Noir or Gamay - enjoy!
---
Impossible Pie
Ingredients:
1 cup caster sugar
1 cup desiccated coconut
1/2 cup plain flour
1 1/2 tsp baking powder
4 eggs
2 cups milk
2/3 cup melted butter
2 tsp vanilla essence
Selection of seasonal fruit or berries
Cream to serve
Method:
Put everything in a bowl and mix together.
Pour into a deep based baking tray lined with baking paper. Scatter with raspberries, mulberries or whatever takes your fancy.
Bake at 180°C for 20-30mins, until golden brown. Allow to cool completely in tin.
Slice and serve at room temperature with fresh cream, raspberry coulis and a glass of Meadowbank Harvest Sparkling. Enjoy!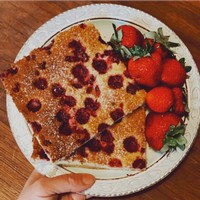 ---
Recipe Tin Eats
Simple ingredients, fast to prepare and always packed full of flavour - this is the ethos behind home cook extraordinaire, Nagi, from Recipe Tin Eats. Nagi's recipes are a weekly staple in the Ellis and Dredge family households, as we juggle the demands of running a small business with the needs of our young children. You can basically guarantee that you will always find a recipe for whatever random ingredients you have in your fridge and pantry on Nagi's food blog, and you will never be disappointed with the result!
We were already huge fans of Nagi's cooking, but then we got to meet her in real life and now we love her even more! Nagi came to Meadowbank, cooked in our kitchen and hosted an epic lunch for her Tasmanian friends. It was the best day ever.
Below are some of our favourite go-to recipes from Nagi's website. Click on the links below to access the full recipe. You can also head over to our instagram page (@meadowbank_tasmania) to watch videos of us cooking these at home...