More than just a vineyard...
High in Tasmania's Derwent Valley, hidden at the end of a winding dirt road, lies a place that is shimmering with life. Playing witness each year to a dance-like ritual between warm days and cool nights, Meadowbank produces fruit of a near ethereal quality – a quality that almost never was.
For when Gerald Ellis started planting vines on his sheep farm in 1976, conventional wisdom said you couldn't grow grapes in the cold wilderness of Tasmania. Too wild, too unpredictable, too 'at the edge of the world' – "it can't be done", they said. They would have been right, except for the fact that he did.
Through farming intuition, and the odd sprinkling of luck, Meadowbank is now regarded as a Tasmanian pioneer and iconic grower of wine. It is reward for the intuitive defiance in those earliest of days, and a legacy nurtured forward by the principles of stewardship, family and fun.
And so we jump back to the future, as Gerald's daughter, Mardi Ellis, now carries the torch as a custodian of Meadowbank for future generations. Add to this the arrival of celebrated winemaker, Peter Dredge – part artist, part scientist, total legend – and the best of our vineyard now finds its way into the wines that bear the Meadowbank name.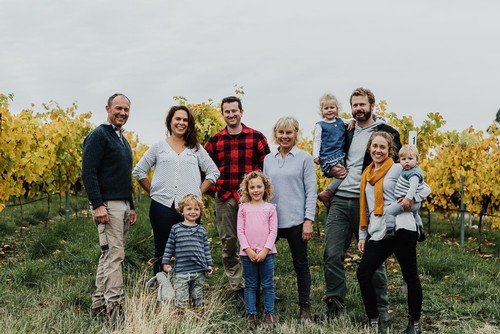 'We believe wine should be fun, accessible and a platform for friendships. That's why we champion real, homegrown greatness!'
– The Ellis Family