VISITING MEADOWBANK
Does Meadowbank have a Cellar Door? Wondering where Meadowbank is hidden?
We are not your typical cellar door. We are a working farm, vineyard and home. However, if you are interested and intrigued to pay us a visit we would love to meet you and are very happy to arrange individual visits by appointment.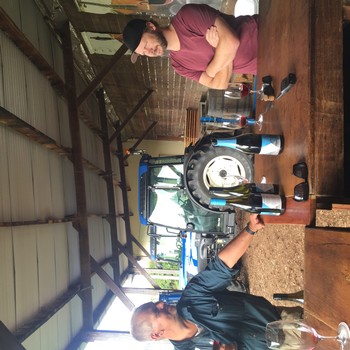 Feel like getting out of town and experiencing what our wonderful Derwent Valley has to offer? Take the one hour drive north-west from Hobart, winding your way alongside the Derwent River, and you will find yourself at Meadowbank. A long and winding dirt road, a hidden valley, a picturesque vineyard set on the banks of the sparkling Derwent River - the perfect place to sit and relax with a glass of wine in hand.
We are able to cater for lunch groups, wine tastings, vineyard visits or any unique functions via appointment.
Please contact Mardi Ellis for all bookings.
We look forward to welcoming you to Meadowbank!
Meadowbank location: 652 Meadowbank Road, Meadowbank TAS 7140