The 2022 Meadowbank Open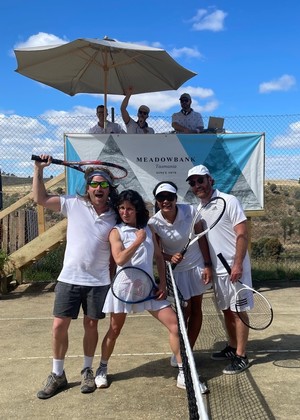 UPDATE: This event has now SOLD OUT.
All ticketholders - please click here to see important pre-event information.
The tournament draw is live - click here to see the full match schedule.
---
Your favourite Tasmanian tennis event is back! A celebration of friendship, family and fun, all wrapped up in a mixed doubles tennis tournament. The next Meadowbank Open will be held on Saturday 12th February 2022.
Our besties from Frank Restaurant will provide the nourishment, while our Meadowbank wines flow freely and keep you hydrated all day long. Pair this with a rockin' soundtrack and a bunch of epic humans, and you can rest assured the 2022 version is sure to add to the colourful and legendary history of this cult event.
EVENT DETAILS
When: Saturday 12th February, 2022. 9:30am - 6:00pm
Where: The Sue Ellis Arena, Meadowbank.
652 Meadowbank Road, Meadowbank TAS 7140
What: A mixed-doubles tennis tournament, but in Meadowbank style.
Who: The most inclusive tennis tournament of the year, with no pre-existing level of tennis skill required to compete. The tournament will consist of 16 mixed teams (i.e. 32 people) who compete in a series of knock-out matches (being the best of 3 games). Due to the growing popularity of this competition, all teams will be selected based on a random draw from those who purchase a 'player' ticket type.
Everyone else will assume the equally as important and varying roles of glamorous spectator, energetic supporter, questionable coach, last-minute substitution, occasional ball-person, vocal cheersquad, paparazzi, and drunk heckler.
The tennis tournament will kick off at 9.30am and play through until the Grand Final around 4:00pm. There will be a bar with beer and wine flowing freely, along with plenty of food throughout the day. At around 1:00pm we will take a formal break to celebrate the day, toast one another, and enjoy a long-table lunch by the amazing team at Frank Restaurant.
If you are wondering what to wear, think Wimbledon attire, whether old school or new. The regulated whites of the All-England Club will look great in the gardens of the Sue Ellis Arena (and become a great indicator of whether you have also enjoyed too many red wines...). For inspiration, you can visit our instagram highlights page here.
Racquets will be available to use on the day. But if you're bringing out an old wooden-framed favourite that you stole from your parents 1970's collection, kudos to you.
To help with travel, there will also be a bus departing from Frank Restaurant at 8.30am, and then departing Meadowbank for the return to Hobart at around 6:00pm. The bus trip is complimentary with your ticket.
TOURNAMENT RULES
There are two very simple rules…
You're not allowed on the court to play unless you are over .05 (while we won't be checking, no one wants to see you taking things too seriously); and
Everything…and we mean EVERYTHING…is at the Tournament Director and Umpire's discretion.
PRIZES
TICKETS*
$170 per person. This is an adults only event (sorry kids).
Players - SOLD OUT
Spectators - SOLD OUT
Tickets are highly limited so secure yours ASAP!
*When purchasing, please select from either the 'player' or 'spectator' ticket type. Players - please indicate in the comments section the name of your preferred doubles partner, or whether you would like us to find one for you.
*Unfortunately, purchasing a 'player' ticket type does not guarantee you a place in the competition, as teams will be selected based on a random draw.
*Please also note any dietary requirements in the comments section when purchasing your ticket.
*Your ticket includes EVERYTHING - all your food, sit-down lunch, all your drinks, return bus ride, fabulous entertainment and the smooth smooth sounds of Matty d'Emden in the commentary box. Jump on it, friends!
*All ticket holders must be fully vaccinated and will be required to 'check in' to this event.