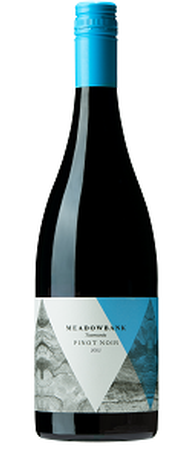 2022 Pinot Noir
~ BEST PINOT NOIR ~
Say hello to the latest vintage of our pinnacle red wine, the one and only Meadowbank Pinot Noir.
Think flavour, finesse and even more flavour! From its bright and vibrant colour in the glass, to it's trademark green strawberry smell which just screams "Meadowbank", to its taste which is brisk and ethereal, with just the right hit of acidic freshness - we are so excited to watch how this wine continues to develop!
There is a lot to love about Tasmanian Pinot Noir, with our soils and climate so strongly suited to growing this delicious red grape variety. Gerald Ellis first planted Pinot Noir in our hidden valley in 1987 and our wine is still made from these vines today. We hand-pick these grapes in three separate instalments, over a two week harvest period. Gerald and daughter Mardi, alongside our winemaker Peter Dredge, base their picking decisions predominantly on taste of the grapes alone, as they look for different stages of peak ripening, which later express as unique flavour characteristics come wine time.
In the winery, Pete allows each individual parcel of fruit to ferment on skins for two weeks, before the delicious red juice is pressed off and placed into mostly old French oak barrels (just 10% new). These barrels are put to bed for 9 months, before they are carefully blended to create the final masterpiece that now awaits you in bottle.
We are confident in assuring you this wine will deliver and still has potential to get even better while hanging out in your cellar. It's the bottle you'll be reaching for to take to your next dinner party and impress your friends, or the bottle you'll incidentally consume in its entirety at home because it's impossible to stop yourself at just one glass.
Food wise, this wine can be super versatile. Tastes great alongside cheese, red meat, slow cooked stews or anything made from mushrooms. For us, we're all about pairing this with venison. Pinot reminds us of time spent with cousins up in the Tassie highlands, eating 'just-seared' venison backstrap with potatoes, jerusaleum artichokes, and of course healthy glasses of Pinot.
---
2022 PINOT NOIR REVIEWS:
95 POINTS - "Pinot noir made by winemaker Peter Dredge from Gerald Ellis' Meadowbank vineyard in the Derwent Valley. This a fine follow-up to the excellent 2021 wine. There is an instant appeal here as you pop your schnozz in the glass with spiced red cherry, wild strawberry and raspberry coulis cut with hints of dried citrus blossom, smoked meats, sous bois, softly spoken cedary tones, struck flint and char siu. Fine, billowing river-silt tannins, a mineral-laden line and a nice umami nudge as the wine slowly retreats with gentle game, spice and savoury red fruits." Dave Brookes (Halliday Wine Companion).
---
*Note: for those wondering, all our wines are vegan friendly.
***Due to critically low stock, this wine is now only available for members of our wine club, The Defiance, to purchase. Also limited to 2 bottles per customer.***