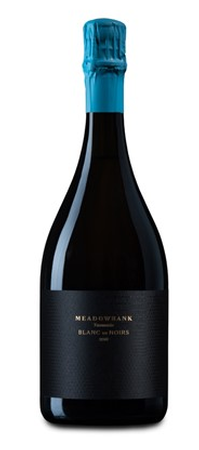 2018 Blanc de Noirs
Our highly anticipated 'Blanc de Noirs' sparkling has been a project of patience, love and stewardship here in our hidden valley. Nurtured through the 2018 growing season and subsequent production time in the winery by Gerald, Mardi and Pete.
Our Meadowbank dream team have called upon everything their extensive backgrounds have to offer. Gerald Ellis, the legendary Tasmanian vigneron, who has tended to and grown grapes for some of the best sparkling wine in the world (hint hint...House of Arras). Peter Dredge, the cult winemaker / artist / mad scientist, who has worked alongside and been mentored by iconic Australian sparkling wine doyen's Brian Croser (Petaluma and Croser Sparkling) and Ed Carr (House of Arras). Add to this the wonderful Mardi Ellis, whose natural effervescence inspires everything that we do, and this is when the magic truly happens.
Our 2018 Blanc de Noirs was made exclusively with Meadowbank Pinot Noir and left on tirage for 3 years. It was disgorged in September 2021 with a minimal intervention dosage liqueur (we're talking next to no sugar added here, think Extra Brut!). This allows the wine to really showcase an authentic 'sense of place' experience, with trademark Meadowbank flavours and seasonal characteristics detectable between vintage releases.
After spending the last 6 months resting on cork, this wine is now in it's prime time for release and your drinking pleasure. Our Blanc de Noirs is decadence in a glass. Rich and unctuous in style, with a generous mouthfeel and classic Meadowbank pinot noir characteristics of strawberries and forest fruits.
Drink it now, or tuck it away in your cellar for up to 5 years, where it will happily await your perfect celebratory occasion.
REVIEWS:
94 POINTS - "Rich style, cherry and strawberry, Pinot Noir riding high! Also a little autumnal and earthy, some sherry-like lift here too. It's a little wild and flavoursome, no shortage of character, very subtle bubbles, a most gentle prickle here, saline and savoury, with a woodsy finish of good length, and a brick dust texture to close. In a way, I like it more than the 16 BdB for its charisma and point of difference. I really like this!" - Gary Walsh, The Wine Front.
*Note: for those wondering, all our wines are vegan friendly.